After the global pandemic turned the world upside down, everyone was confused about what the future would be. And with travel being banned, the hospitality industry, including Airbnb hosts, was among the worst-hit groups. But now that things have changed and the world has opened up again, Airbnb cleaners have to ensure they thoroughly clean vacation rentals to reduce the risk of spreading Covid 19. That means following safety protocol, including using EPA's recommended disinfectants. Here are some useful tips that cleaners can put to use.
Use cleaning resources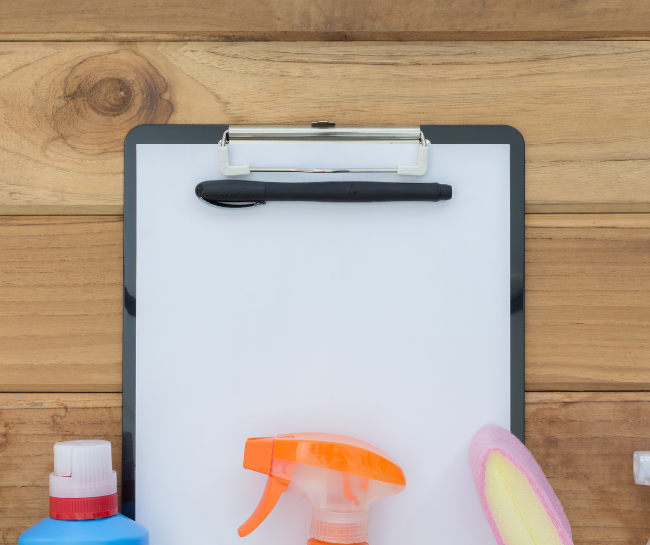 With more cleaning jobs expected, a cleaning crew needs to find as many cleaning resources as possible to keep themselves and guests safe. For instance, having a cleaning schedule ensures that the cleaners will stay organized even when there are a lot of jobs. That means ensuring there is no double booking to avoid inconveniencing both guests and hosts. Another way to stay organized is by following the ever-changing cleaning guidelines to ensure you are taking the proper measures at all times.
Cleaning and safety advice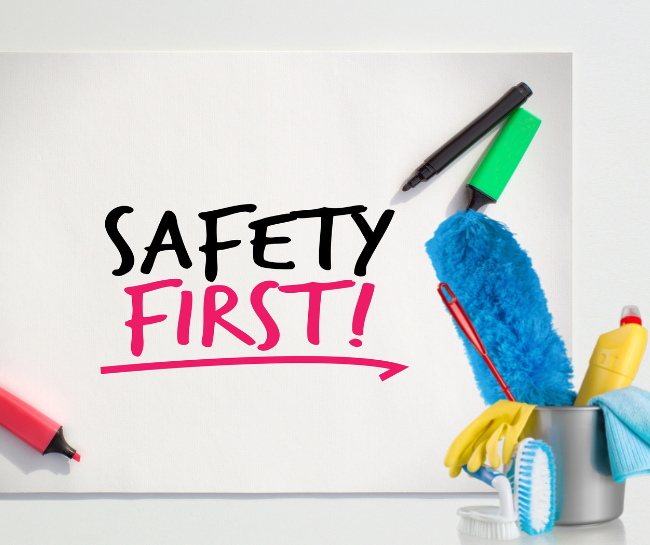 Covid-19 has created the need to take additional measures when cleaning and disinfecting. Cleaners are advised to:
Cleaners should wear protective gear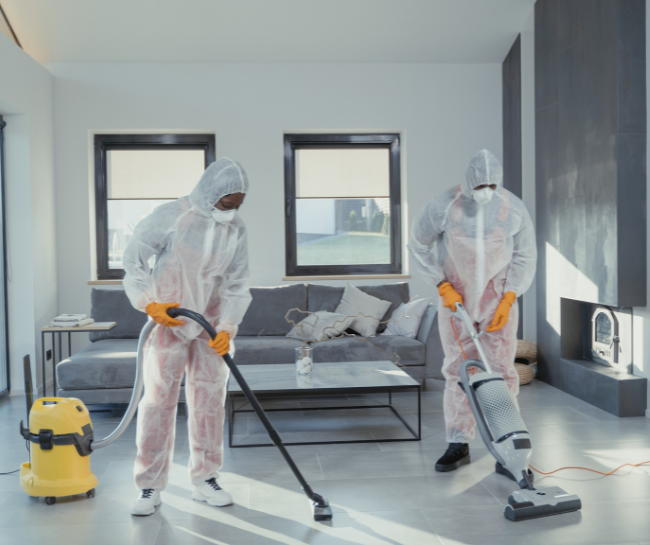 Professional cleaners need to wear masks and gloves every time they are cleaning. This is both for their safety and that of guests. If possible, they should change the gloves often to minimize the spread of germs. If you want a cleaner to wear specific protective gear when cleaning your home, communicate this early.
Hosts are also advised to wear protective gear if they are around as the house is clean. This ensures everyone is safe and comfortable. It is also a good idea to have extra gloves, masks and paper towels just in case the cleaners do not have enough. Once a guest checks out, the cleaner should take around 24 hours before they start cleaning. After the cleaning is done, hosts should start receiving guests after 24 hours to minimize the risk of infections.

Express CLEANING SAFETY Tips :
❗Wear rubber gloves to avoid contact with chemicals
❗Ventilate rooms before you clean
❗Do not mix chemicals for any reason

General cleaning principles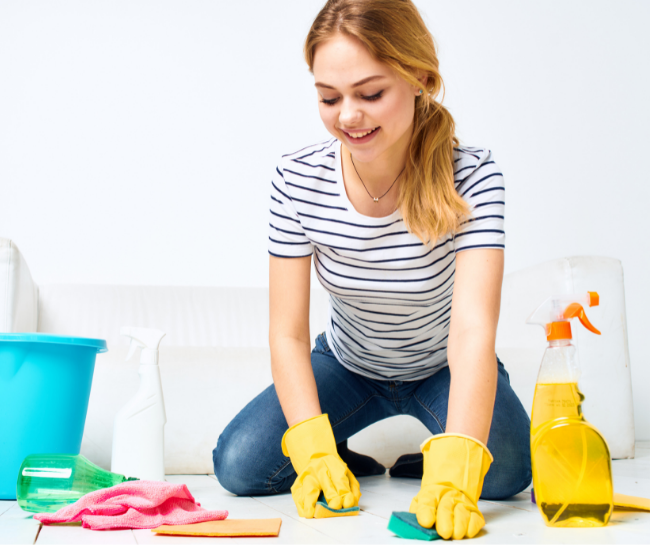 Cleaners need to know that cleaning and disinfecting are different steps, and both are equally important. Cleaning removes the dirt and impurities on surfaces but does not necessarily kill germs. However, it lowers their number, hence reducing the risk of infections. Disinfecting, on the other hand, is using chemicals to kill germs but does not exactly remove dirt from surfaces. Some other important tips to keep in mind include:
Use a cleaning checklist to ensure all areas are cleaned and disinfected
Each area has specific cleaning types of equipment to prevent cross-contamination
Start cleaning from the areas with the lowest risks (living room and bedroom) to high-risk areas (bathroom and kitchen)
Ventilate the space during and after cleaning
If the guest cleans the area before checking out, assess the results and ensure you disinfect the areas.
Washing linen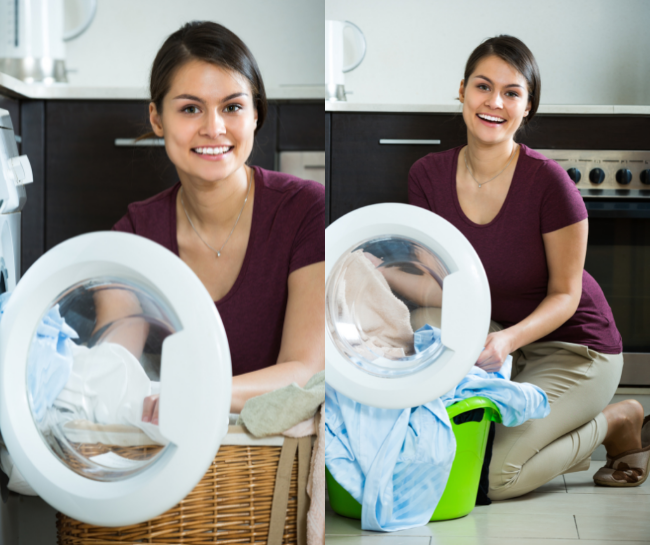 When washing all the linen used by guests, here are some rules to stick to :
Limit the handling of used linen, especially shaking it, to reduce the risk of contamination.
All linens are washed at the highest temperature and completely dried before storage.
Clean linen to be handled and stored separately from dirty linen
💡Linen is the most thermodynamic fabric, which means it regulates temperature as your body heat fluctuates. Linoleum, as a hollow fiber, keeps you warm in the winter and cool in the summer. I'm about to use everyone's favorite buzzword, but the point is that linen sheets are trans-seasonal!
Prioritize high-touch surfaces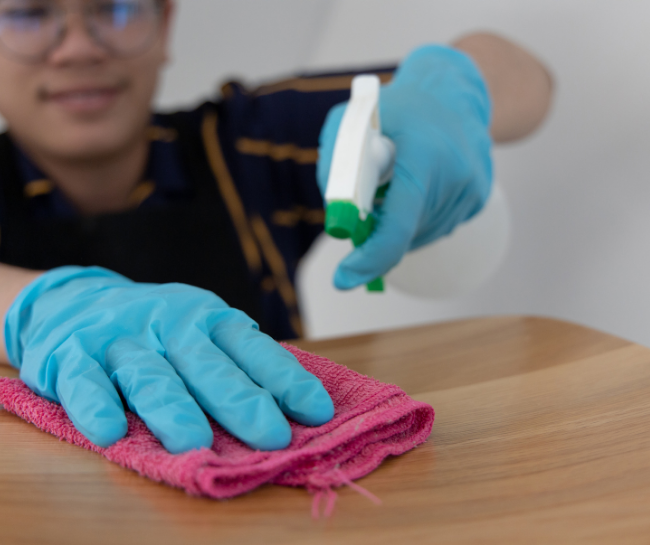 Ensure you clean and disinfect those high-touch areas like:
Doorknobs
Bathroom taps and faucets, toilet seats, and flush handles
Control and switches, including light switches, remotes, and fan pull chains
Furniture such as tables, chairs, and certain parts of the bed frame
Utensils, crockery, and cutlery
Cleaning equipment
Guest information, menus, brochures
Trash cans
Children's facilities like play equipment and bunk beds.
Being thorough in your cleaning shows guests and hosts that you are a safe and educated cleaner. These tips will go a long way in helping you navigate the pandemic even as you expect more cleaning jobs. Don't forget to leave a comment and check out and read our latest blogs!