If you want your guests to feel comfortable, you need to provide some Airbnb kitchen essentials when designing the ideal Airbnb experience for them. A well-stocked Airbnb kitchen will not only enable you to stand out among the sea of listings in your area, but it will also demonstrate your experience and sincerity as a host. Indeed, many individuals choose Airbnb particularly for the at-home living experience that many Airbnb properties provide.
Most travelers will want to reheat leftover restaurant food or prepare a simple meal in your kitchen at some point. Don't make it difficult for guests to find the items they require in your kitchen, especially spices. Here are some spice cabinet organization ideas to consider so that you are ready to meet the needs of your guests:
How do you organize spices in a cabinet?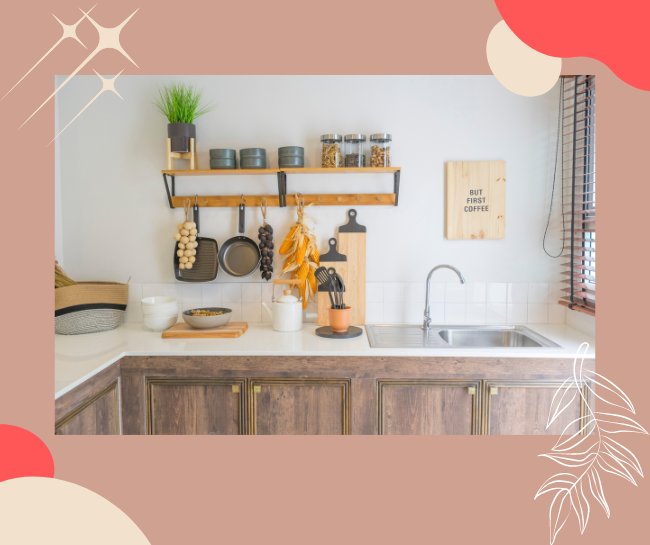 You already have your freezer and refrigerator arranged by food type, your pans and skillets neatly stacked, and your cleaning supplies organized under your wash basin. Still, the group of kitchen essentials that always seems to be the most difficult to keep organized is your spices.
You may have them jammed in the back of a cupboard or spread out across your kitchen countertops, which is fine but apparently feels a little too cluttered for your taste. Fortunately, there are a variety of approaches and organizational tools available to keep everything in order, from your pepper to your pumpkin spice.
Make a real spice cabinet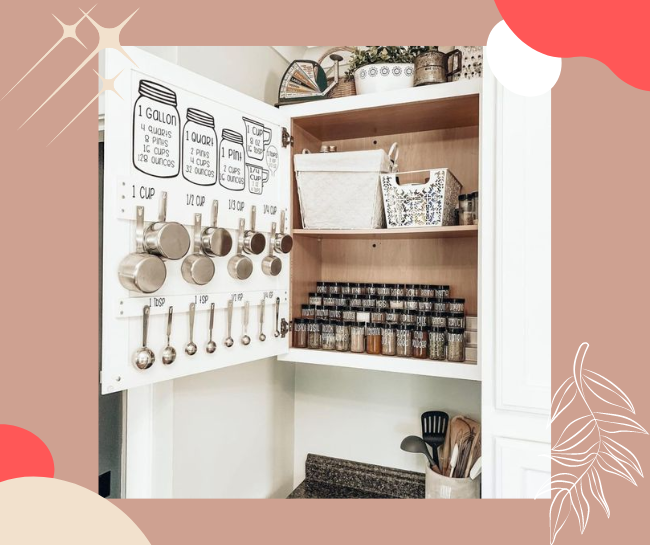 There are numerous reasons why spices must be given to their room. The most obvious reason is for organization, but it also implies that the more pungent spices will not contaminate other food products in your cabinets.
A formal spice cabinet is perfect, but if you don't have the extra room, a spice rack can be just as valuable, and some of the ones on the market today are kitchen decor marvels in their own right. To extend the life of spices, store them in a cool, dark place away from direct sunlight or heat. 
💡Spices are most commonly stored in a cabinet or cupboard, a pantry, a drawer, hung on a wall or door, or on the counter. If you keep spices on the counter, keep them to the spices, you frequently use. The location you select for storing your spices will be determined primarily by how much space you require and where that space is available.
Sort spices alphabetically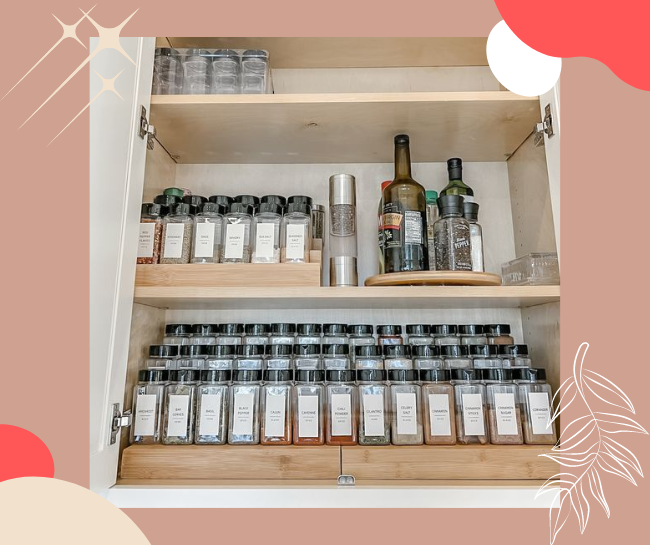 Don't be afraid to combine spices and store them in different parts of the kitchen. When cooking, the most frequently used spices, including pepper, salt, and even red pepper flakes, can be kept nearby. Baking spices (cloves, cinnamon, cream of tartar, nutmeg, ginger, pumpkin spice mix, and extracts) can be stored together as well. Dried herbs, spice mixes, and spices specific to ethnic cuisines are examples of spice groups.
Consider door-mounted spice racks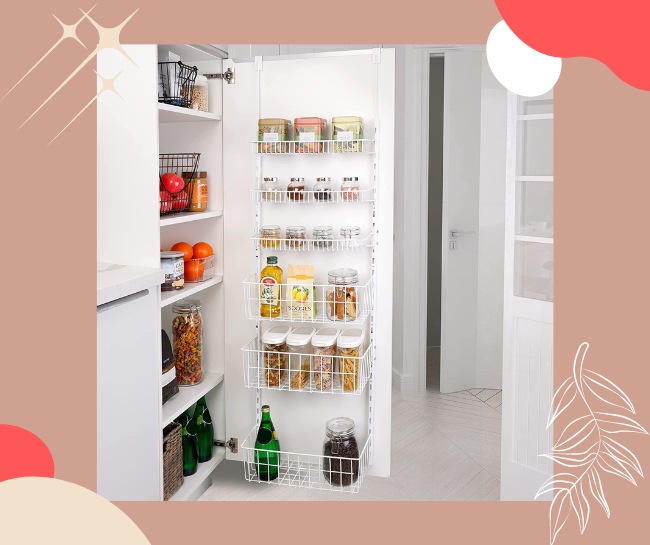 Use door-mounted spice racks or magnetic strips, turntables, double turntables, and tiered shelves to maximize vertical space if you keep your spices in a cabinet. Some shelves can even be pulled out or down. Consider a drawer organizer that holds the jars tilted and in tiers, or employ a divider to retain jars upright and corralled. Hang racks or magnetic strips on the walls or under high cabinets if you're short on confined storage space. Spices can even be stored in a shoebox or plastic bin.
Organize with risers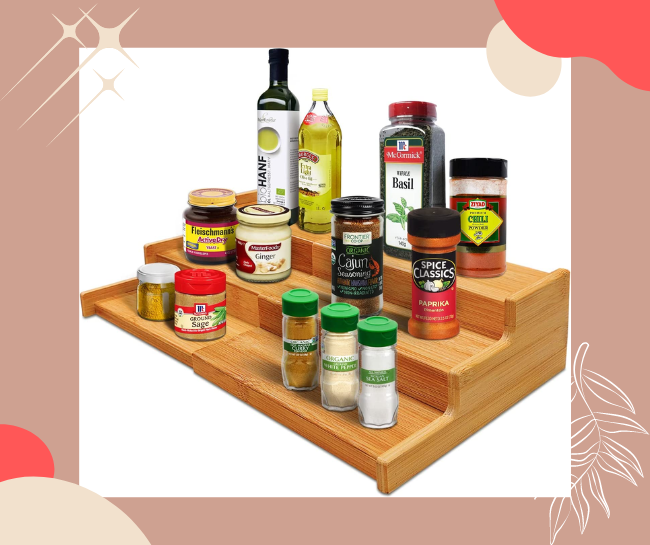 It doesn't get much more ordered (or aesthetically pleasing) than alphabetized spices on risers. The larger labels allow you to see what you have, even in the back—it also helps that these are organized in a "window view," so no spice is blocking another.
Make use of clean labels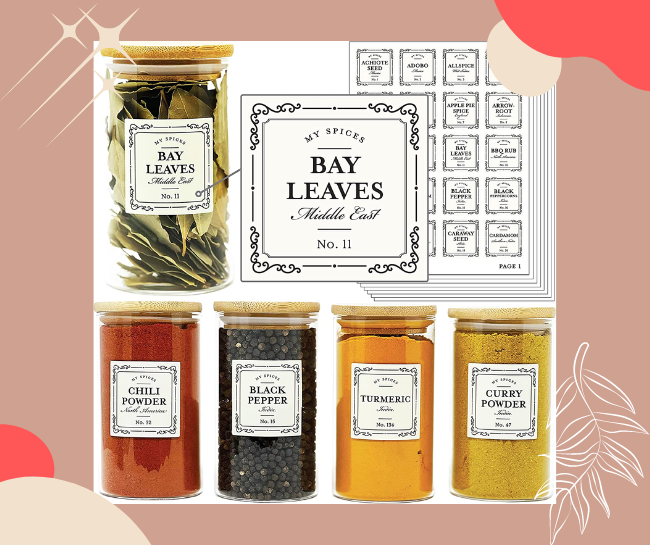 This well-organized spice cabinet provides an excuse to pull out the label maker. One advantage of using pull-out drawers for spices is that you can see everything with a quick glance. Labels keep it structured and clean, and the wide lids make it easy to get even larger spices, such as star anise or cinnamon sticks, in and out of the jar.
Mark the tops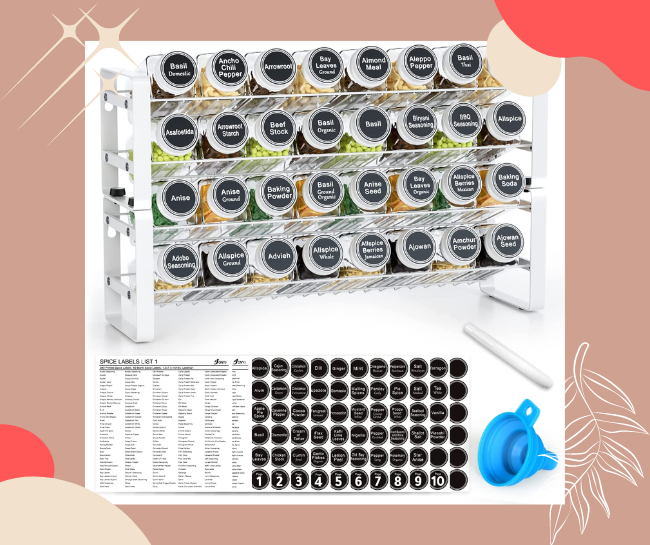 Stacking square spice bottles in a cabinet and categorizing the tops is a brilliant and efficient way to store spices. It will always keep you informed of what you have so that you don't end up with three jars of cinnamon. These are store-bought plastic jars with custom labels added to the lids by the creator. Smaller jars not only fit neatly in a drawer, but they also keep your spices fresher for longer.
Consider a corner cabinet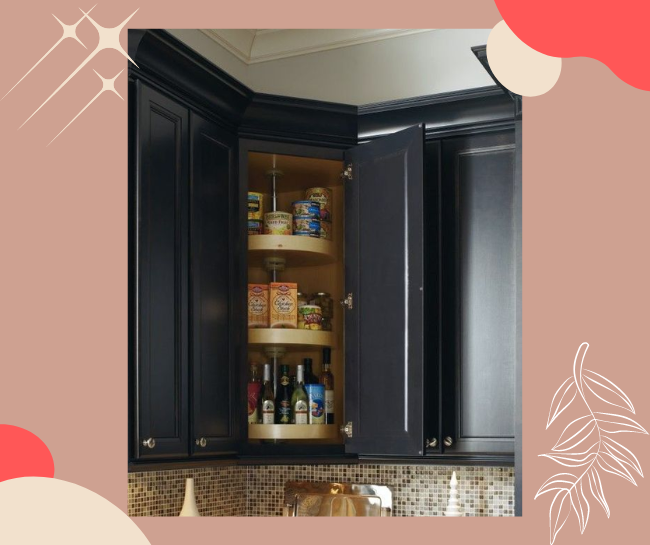 A narrow pullout pantry can only be used for spice storage, but it's ideal for it. These drawers are frequently found near or in blind corner cabinets, and storing spices in these small or awkward spaces works well.
Make use of revolving tray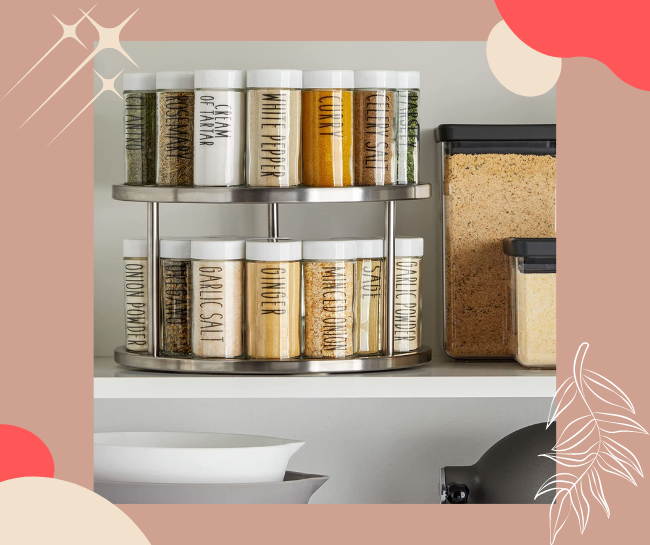 A revolving tray can easily be converted into a spice rack. With just one quick turn, you can see everything you have without having to shuffle a bunch of spices around. By keeping it alphabetical, you'll always know how far to turn to find what you're looking for.
Consider your back door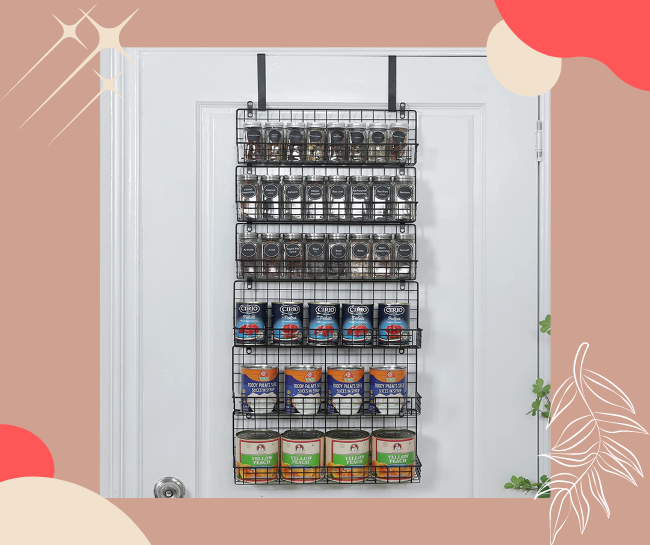 Consider putting a beautiful spice rack to the back of a door or inside a cabinet if your kitchen is on the small side or if you simply appreciate good use of space. This custom-made rack is designed to fit neatly on a pantry door.

Use open shelving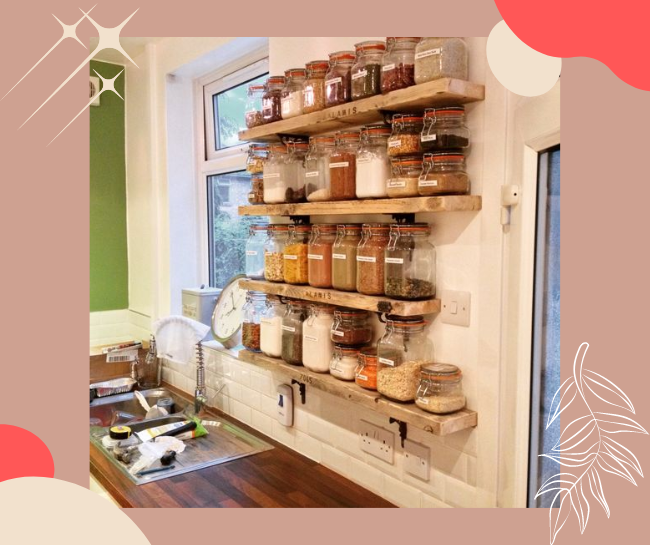 When your spices are this well-organized, you'll want to display them on open shelving. It's important to have uniform jars that match the look of the kitchen for a spice system like this to look its best. You will surely love how these jar tops coordinate with the rails on the shelving.
Make use of pop-tops creatively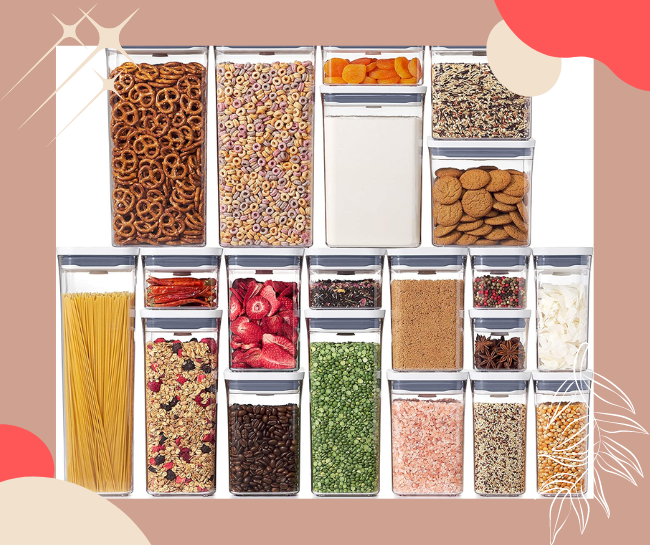 Although these are pantry staples, this organized system would be ideal for extra spices. Pop-top containers keep everything fresh, and you don't have to pull out the entire canister if you only need a tablespoon of something.
Make rising rows in your cabinet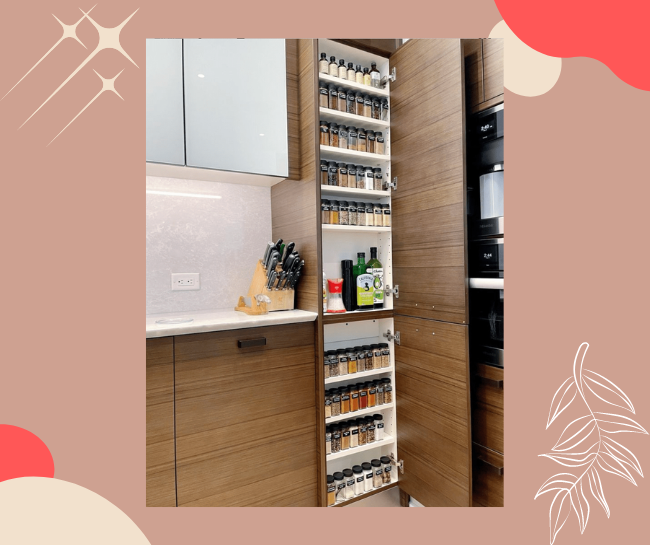 This space rack organization is so lovely that you might not want to shut the cabinet door. Risers keep everything tidy, and less frequently used spices can be stored on top. Everyday items such as salt, pepper, and olive oil can be seen on the rotating tray for easy access.
Install a pull-out system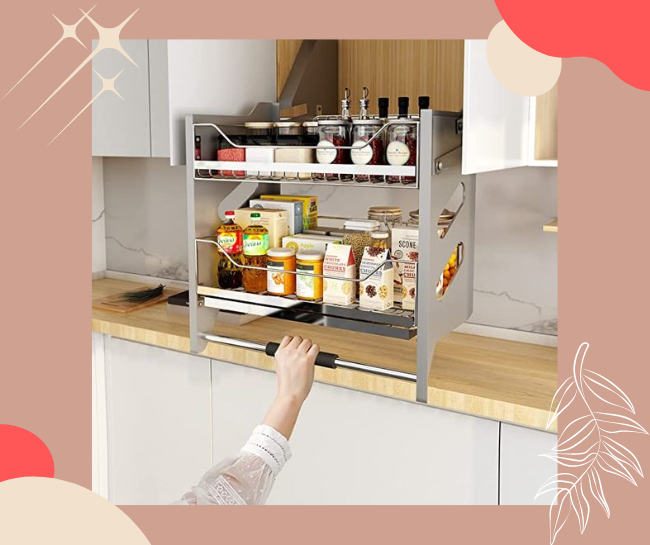 These rustic black spice labels with white lettering look lovely. Aside from being aesthetically pleasing, it exemplifies how ideal a pull-out pantry is for spices; they fit in those awkward, narrow kitchen spaces and allow you to see everything you have.
Keep everything fresh
This is one of the most important spice cabinet organization ideas. If you keep spices for years, you will not get the most out of them and may ruin your culinary inventions. Spices do have sell-by dates, which you must note and then mark more prevalently on the bottom with small sticky labels. These three methods can also be used to test the freshness of spices.
Smell. In your hand, rub or crush the spice or herb. If the aroma has faded, it is time to change it.
Sight. Make sure that the colors of your spices and herbs are bright. The flavor has faded as the color has faded.
Taste. Put the spice to the test. It is past its prime if it lacks flavor.
You can help your spices stay fresher for longer by keeping them away from direct light, excessive heat, and moisture. Having said that, herbs and spices have varying shelf lives. Some general guidelines are provided below.
2-3 years for ground spices
3-4 years for whole spices
1-2 years for seasoning blends
1-3 years for dried herbs
Why is it necessary to organize your spices?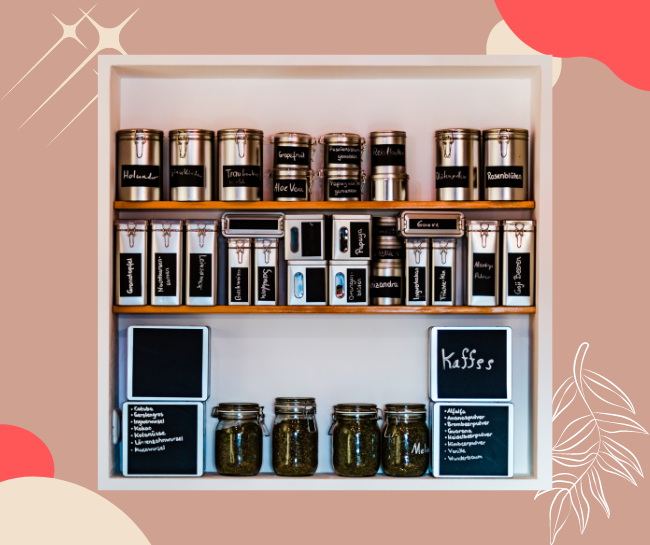 If you don't use your spices, they will go bad no matter how you store them. That is why it is critical to keep spices organized. A spice jar that has been lost at the back of the shelf for years will become bland before you find it again. Alternatively, disorganization may result in duplicates. You could end up with multiple jars of the same spice, each with only a small amount left and each jar going bad before you finish it. That is why you should spend some time organizing your spice collection.
Each spice container should be clearly labeled and placed in/near the kitchen so that it is easy to find when needed. Spices can be organized in a variety of ways. For instance, labeling and arranging them alphabetically is a tried-and-true method. Meanwhile, others prefer to divide spices into sections, such as baking spices in one section and Italian spices in another.
Other chefs organize their bottles by size. Use whatever method works best for you. Large jars of seasoning salts and other frequently used spices are kept on their shelf in a cabinet.
💡 Whatever method you use to separate your spices, you'll need a container system to keep them organized. You could arrange your spices on a shelf or use magnetic strips to attach them to the refrigerator door. Spice storage, however, will most likely take the form of a rack, cabinet, or drawer devoted to organizing your many small spice containers.
Take Away
Making sure you have all of the Airbnb kitchen-use products that guests might need, even if they don't use them, is critical for keeping all types of guests happy. Nevertheless, you must also organize your Airbnb kitchen. Invest in storage racks, hooks, and other organizational tools to create as much open counter space as possible.
By showcasing that every item in your kitchen has a place, you will make it easier for your guests to clean up after themselves and avoid clutter, which can lead to kitchen accidents. Eventually, don't be afraid to explore various spice cabinet organization ideas. Adding a few decorative touches to your kitchen will make it appear more inviting to guests and enable them to feel comfortable enough in the space to prepare a meal if they so desire.
Book our cleaning services now! Click here, or call (877) 397-6243.